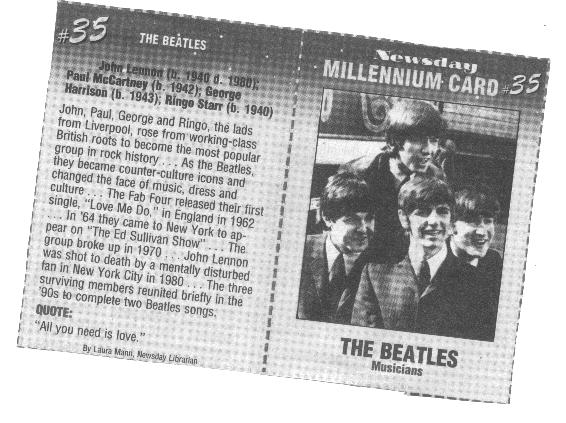 Newsday
Millenium Card #35
The Beatles
John Lennon (b. 1940 d. 1980);
Paul McCartney (b. 1942); George
Harrison (b. 1943); Ringo Starr (b. 1940)

John, Paul, George, and Ringo, the lads from Liverpool, rose from the working-class British roots to become the most popular group in hist\ory...As the Beatles, they became counter-culture icons and changed the face of music, dress and culture...The Fab Four released their first single, "Love Me Do," in England in 1962... In '64 they came to New York to appear on "The Ed Sullivan Show"...The group broke up in 1970...John Lennon was shot to death by a mentally disturbed fan in New York City in 1980... The three surviving members reunited briefly in the '90s to complete two Beatles songs.

Quote:
"All you need is love."





AWARDS!!!!!
If you'd like to see Alan Lowell's Beatle site, please click on the link below. Thank you, and thank Alan Lowell for giving me this Beatle web-site award.
Alan Lowell's Beatle Site!!